Starring the following model:
Dressed in a long brown satin gown, I stand in the bath with several tubs of custard. I start by slowly pouring some custard down the dress. I pour some over my shoulder, just missing my long blonde curled hair.
I continue to pour custard down the dress, over the front from top to bottom. The soggy satin clings to my skin and feel lovely. I make sure the dress is totally covered with thick custard before I pour some in my hair and down my back. I pour more and more over the dress and pour some inside so I can feel the custard on my skin. Once the dress is saturated, I pour some custard over my head and face. I keep on pouring custard over me until all the tubs are empty. I kneel down in the pool of custard and scoop it up, covering myself and the dress, massaging it in.
I finish off by showering all the custard off. It slides off the satin quite easily and I now get to enjoy the wet satin against my skin. I rinse my hair and face and in no time, my dress is clean!
| | |
| --- | --- |
| File count: | 1 |
| Total size: | 179.46 MB |
| Total runtime: | 10 mins, 38 secs |
| Date added: | 1/12/18 |
| Views: | 295 |
| Scene ID: | 26504 |

$19.99 61% off!

$7.80




Report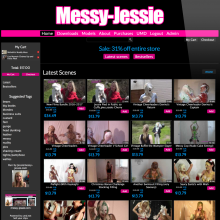 More scenes
17 min

2 files

28 min

3 files

2 files

15 min

9 min
Tell others about this scene:
* Promo refers only to
1 and Only Messy Jessie UMD Store
's download scenes. The lowest-priced item(s) in your cart from this producer will be made free once you have the required number of items in your cart.