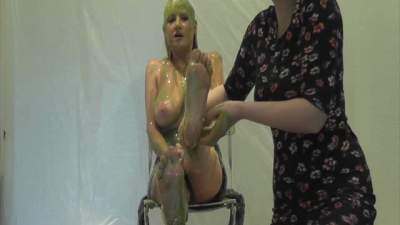 Starring these models:
| | |
| --- | --- |
| File count: | 1 |
| Total size: | 193.43 MB |
| Total runtime: | 15 mins, 16 secs |
| Date added: | 5/10/17 |
| Views: | 2476 |
| Scene ID: | 22640 |

$19.99 61% off!

$7.80




Report
If you want to see me absolutely squealing and really wriggling around as my bare feet and sexy toes and soles are tickled then this the film for you.

However when Messy Jessie gets tickled and can't take it anymore there are wet and messy consequences and even some stripping off!

Messy Cherry wants to test just how ticklish I am.

Cherry is wearing a short dress with flowers on and I have a stripey satin shirt with a black minishirt and bare feet!

We agree that I need a safe word so Cherry knows I can't take the tickles anymore which is 'Chirapodist'.

However everytime I use the safe word I get gunged with green slime.

If I use it 3 times I have to remove my shirt.

On the 4th use I have to take my bra off and show off my natural big boobs.

It really is torture as Cherry's long nails go up and down the soles of my feet.

I really am screaming and squealing and nearly wetting myself it's that ticklish.

Eventually I give in and Cherry pours slimey gunge over my long blonde hair and then over my toes!

In fact I realise my arches aren't that ticklish but my toes really are.

I really scream,and cover my eyes and try and distract myself but again the tickling becomes too much.

The left foot is more ticklish than the right and I use the safe word again.

The gunge is a relief as opposed to the tickling!

I soon use the safe word again and this time Cherry gunges my head and feet.

More tickles follow and Cherry focuses on my toes and I have to scream out the safe word and take my shirt off.

So in my bra I'm forced to take more tickles and eventually yet again it's just too much.

I have to give in and off comes my bra to reveal my naked breasts.

Cherry pours gunge over me and covers my head and bare boobs plus my legs and of course my feet and toes!

By now though the gunge is pretty cold and yukky!

Cherry sudden;y finds a new tickle spot and my toes are wiggling like mad as I squirm to try and cope with the tickling.

As I give in Cherry finishes off gungeing my head,face,boobs,legs and feet!

I didn't do another one like this for a long time!

Who wants to sponsor me to get tickled again?