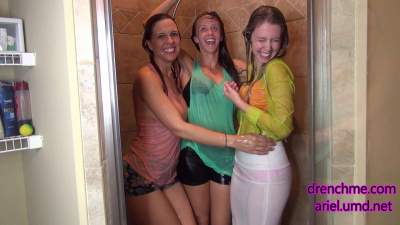 Starring these models:
"Dixie Soaked By The Soccer Moms! Then They All Shower and Shampoo Dixie"
Soccer moms Jayce and Ariel are enjoying some sparkling wine on the porch when Dixie walks up, dressed to go to work. The ladies have some back and forth banter and Dixie insults the 2 drunken milfs so they start to squirt and pour the sparkling wine all over Dixie, soaking her thin blouse, pink bra, white skirt and pink panties! You can see her bra and panties clearly through her clothes! Dixie grabs some of the bottles and squirts Jayce and Ariel as well! Once all of the booze is gone, the ladies decide it best to go get in the shower together! They shampoo and condition Dixie's long blonde hair and all 3 women take their turns getting soaking wet in the shower!
| | |
| --- | --- |
| File count: | 1 |
| Total size: | 706.11 MB |
| Total runtime: | 9 mins, 40 secs |
| Date added: | 10/09/17 |
| Year produced: | 2017 |
| Views: | 3099 |
| Scene ID: | 24799 |

$6.99