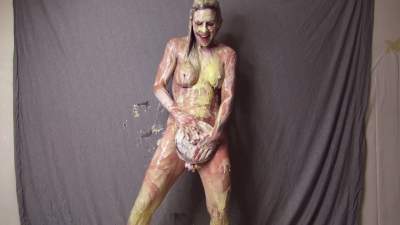 Starring the following model:
"Ariel enjoys head dunking in batter, shoe filling, pieing + sliming herself"
Ariel is dressed in Nike gym gear--black Spandex shorts and a tight pink tank top w/ white no show socks. All that's missing is some sneakers! She finds a box w/ a note, it's a pair of Nike Lunar Glide sneakers, but the note says she has to get them messy, and that's just what she does! She begins by filling both shoes with melted ice cream and putting them back on her feet. The sensation of the cold ice cream between her toes feels incredible! Next, she pulls out 2 big buckets of sloppy batter and dunks her head in both of them, then she dips both feet and legs into the buckets, saturating her shoes with mess! She pies herself in the face, pies her shoes and gives herself a fantastic pie sandwich, now in her black Nike sports bra. She takes off the Spandex shorts and now is wearing only a black thong, bra and her sneakers! She keeps on getting messy, pouring batter on her shoes, head and her now bare tits! She pies herself on the ass and fills her shoes with more batter and puts them back on, then she strips off her thong and pies herself in the pussy and on the ass, rubbing it all in really well! This is a glorious self wam scene! Ariel has a lot of fun getting herself messy in this scene and it's fantastic to watch!
| | |
| --- | --- |
| File count: | 1 |
| Total size: | 310.81 MB |
| Total runtime: | 20 mins, 57 secs |
| Date added: | 9/14/17 |
| Year produced: | 2017 |
| Views: | 3115 |
| Scene ID: | 24489 |

$7.00