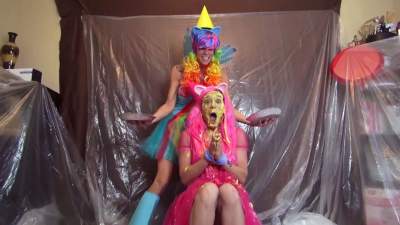 Starring these models:
"Ariel and Jayce Never Break Character in a Pie and Slime Pony Custom"
| | |
| --- | --- |
| File count: | 1 |
| Total size: | 248.76 MB |
| Total runtime: | 16 mins, 43 secs |
| Date added: | 5/18/17 |
| Year produced: | 2017 |
| Views: | 1432 |
| Scene ID: | 22751 |

$6.99



Ariel and Jayce get to do a My Little Pony cosplay custom with 20 pies and big buckets full of colorful cake batter slime! They are asked to take care to never break their character roles and they play the roles of Rainbow Dash and Pinkie Pie perfectly, even going so far as to "Nehhhh!" many times! Rainbow Dash (Jayce) has a surprise in store for Pinkie Pie (Ariel) because she's such a good friend to everyone! She blindfolds Pinkie Pie and binds her hands and leads her into a room where her party is set up. She helps her get onto her seat, takes her blindfold off and immediately pies her in the face! She continues making a mess out of Pinkie Pie, giving her a pie sandwich and many more pies to the face, having her sit on a pie--and these ponies have no panties on!, dunk her head in a bucket of slime and get lots and lots of colorful slime poured all over her! Since Pinkie Pie is such a good friend, she wants Rainbow Dash to get to experience all the fun she just had, so she gives her the exact same messing that she just got and in the same order even! Both ponies are completely trashed and satisfied with all the fun they just had together! Messy pony friends forever!


lol

Report

Phased Out Again