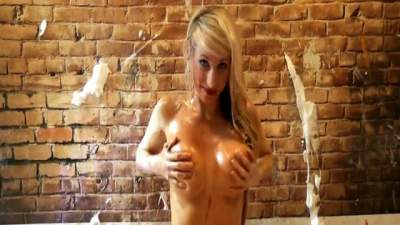 Starring the following model:
You either love it or hate itů Marmite! Quite unbelievably, although I do enjoy a challenge, I get messy with Marmite! I wear just a simple white thong in this scene to optimize the results. However, before I start with the Marmite, as you would do when spreading it on toast for example, I cover myself with butter first! Once I am sufficiently lubricated with butter, I move onto the Marmite which I squeeze all over myself! Luckily, I am a lover of the stuff and enjoy the aroma immensely! I rub the buttery, Marmite mess in with pleasure.
As you can imagine, this isn't a fabulously messy scene with lot's of gunge etc, but I do enjoy the experience and it's always fun to experiment with things that you don't normally see on the WAM scene!
| | |
| --- | --- |
| File count: | 1 |
| Total size: | 106.65 MB |
| Total runtime: | 7 mins, 12 secs |
| Date added: | 6/18/17 |
| Views: | 988 |
| Scene ID: | 23152 |

$19.99 55% off!

$9.00




Report

messysupplies.com