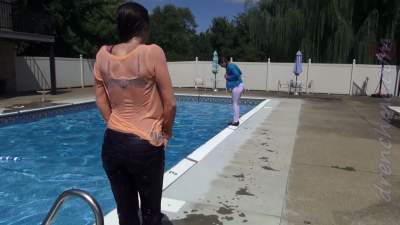 Starring these models:
"2 pairs of loafers in the pool! Sexy wet jeans too!"
| | |
| --- | --- |
| File count: | 1 |
| Total size: | 653.55 MB |
| Runtime: | 11 mins, 19 secs |
| Released: | 10/03/17 |
| Produced: | 2017 |
| Views: | 3215 |
| Scene ID: | 24713 |

$6.99



One of the last swimming pool scenes of the year! It's September and the water is starting to get cool, but that doesn't stop Jayce and Ariel from going swimming in their clothes! Jayce is wearing dark blue boot cut Levi's jeans while Ariel wears a pair of thin white skinny jeans that get quite see-thru when wet! On top Jayce is wearing a bright purple silky bra with a very thin peach colored sweater and Ariel has on a tiny sheer white tank top with no bra and a light blue cotton zip up hooded sweat-shirt. They walk over to the edge of the pool, talking about how they want to go swimming but they don't have any swimming suits, so instead they decide to make a game out of balance on the edge of the pool! Jayce falls in as Ariel points and laughs at her! She climbs out, soaking wet, her Levi's jeans are an even darker color now! They start to play another game, Ariel balancing on the side and leaning backwards as Jayce holds onto her hands, Jayce lets go and now Ariel is drenched! She climbs out and you can see right through her pants and tank top! They sit down and take off their white socks and put their loafers back on. Now it's time to swim! They jump in and swim and have fun, then climb out and sit on the side showing off their soaking wet clothes! Next, they hop back into the cool water and soak their clothing again and then both climb out using the ladder, then sit on the side of the pool showing off their wet loafers and clothes.

Report