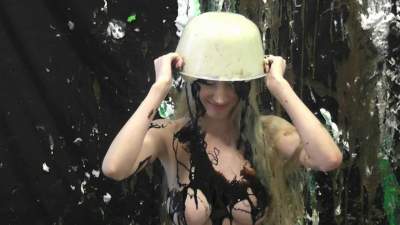 Starring the following model:
After losing a challenge with Annabelle earlier in the day, I am left to get messy all my own with a bunch of savoury items. I start of in a pretty underwear set and go through the list of substances.
Before I proceed to get mess, I remove my bra. I start with a tin of treacle that I managed to sneak into the session! I pour it over my head and let it slowly make its way down my long blonde hair and trickle some onto my boobs. The second tine of treacle also goes on my hair but I turn around so you can watch it covering my hair.
Next up is a bowl of very thick porridge that has been sat out all day so it's incredibly thick. I pick up the bowl and put the entire thing (including the bowl) on top of my head! The porridge slops down onto my chest! I rub it in to my body before picking up a jug of gravy. I pour the gravy over my head and it goes all down my face and body. I have a second jug of gravy but I choose to smoosh some baked beans into my boobs instead followed by some spaghetti in tomato sauce. I pour that over my head, face and hair. I play with all the mess, rubbing it in and making sure I am covered before using the last jug of gravy. I pour it over my head and it flows over my face and down my body. It's a good job I don't mind savoury stuff isn't it!
| | |
| --- | --- |
| File count: | 1 |
| Total size: | 232.44 MB |
| Total runtime: | 7 mins, 50 secs |
| Date added: | 6/18/17 |
| Views: | 1258 |
| Scene ID: | 23146 |

$19.99

Report