Jessie and Sophia's Messy Kissing Lesson 0069
Produced by Hotwamhd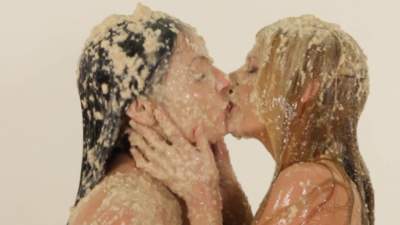 Starring the following model:
"Naughty student Sophia messes up Headmistress Jessie before they kiss"
| | |
| --- | --- |
| File count: | 2 |
| Total size: | 810.03 MB |
| Total runtime: | 22 mins, 15 secs |
| Date added: | 7/06/18 |
| Views: | 2926 |
| Scene ID: | 28935 |

$9.99
Sophia is in big trouble with Headmistress Jessie. Not only is her uniform far too revealing, but Sophia started a food fight with another girl in the canteen. Jessie insists that Sophia describe the whole incident in detail. 'I poured custard over her stockings, miss, and spaghetti into her cleavage.' 'What, like this, you mean?' Jessie punishes Sophia with a taste of her own medicine! Sophia is then forced to admit that she poured beans over the other girls head, and filled her knickers up with custard... and sure enough, Jessie makes sure she knows just how the other girl felt by covering Sophia in the same muck!

But wait, Jessie insists on every detail being re-enacted perfectly, but Sophia tells her she has got the knicker-filling all wrong! Grudgingly, Jessie lets Sophia position her on the floor so she can demonstrate exactly what happened to the helpsless headmistress. Jessies knickers are covered with custard, and rice pudding is poured all over her, trashing her Hugo Boss suit. Next, Sophia shows Jessie exactly how she filled her victims bra up with custard, and mentions a syrup shampoo.

'A syrup shampoo, I want a go at that!' says Jessie. Sophia is once again at Jessies mercy, as a full gallon of golden syrup is tipped over her glossy black hair. Jessie shampoos it in, but again Sophia insists she's not doing it right. Intrigued, Jessie submits herself to a syrup shampoo, and Sophia takes great delight in massaging the sticky muck into her gorgeous blonde hair. They agree that this feels pretty good, and decide they should take their bras off. They try some pie sitting, and then spot a bucket of warm porridge. It's perfect for head dunking, ad the girls try it forwards and backwards to make sure they are properly covered. Jessie dumps handfuls of porridge on Sophias face while her hair is in the bucket, and can't resist stealing a kiss while Sophia is so vulnerable.

They play around with the porridge some more, pouring it over each other, and can't resist some more kissing as well. To finish, the girls drench each other with beans and spaghetti. Did they learn their lesson? You'll have to watch and find out!
Includes these files:
jands_mkl.zip

Zip file of 29 photos

7.02 MB
jessie-sophia02_teacher_and_schoolgirl_1920x1080.wmv

1920x1080

5,044 Kbps

803.01 MB

22.3 minutes

Report