"Jayce and Ariel give their fave substances, lapdances and makeouts!"
| | |
| --- | --- |
| File count: | 1 |
| Total size: | 1.11 GB |
| Total runtime: | 16 mins, 59 secs |
| Date added: | 12/16/16 |
| Year produced: | 2012 |
| Reviews: | 4 |
| Views: | 11647 |

$8.99




Flag it
-Ariel gives Jayce her lapdance for Christmas and covers her in a mixture of methylcellulose and shaving foam. -Jayce spanks Ariel and bounces her booty, as does Ariel. -Ariel spreads Jayce's legs to massage the mess in ;)

-Ariel coats Jayce's titties in white frosting and proceeds to lick it off -The girls have a long, sensual make out session before switching

-Ariel has a seat and has chocolate batter poured all over her. -Jayce rubs in all the batter and plays with her hair, body and boobs

-Jayce turns Ariel around and pies her in the chest and licks the pie off her boobies. -Jayce gives Ariel a big pie sandwich

-Jayce brings a big bucket of oatmeal and puts Ariels feet in, massaging her legs with the oatmeal and working her way up her body with her feet submerged in the bucket. Giving her an oatmeal massage. -She then dumps the oatmeal bucket over Ariels head. -Jayce sits on a cake while Ariel mashes it into her bootie, making sure she really gets it in her thong!

-Ariel grabs Jayce by the hair and head dunks her into a huge bucket of white batter

-Ariel pours the white batter all over Jayces body. -The girls get in the floor and continue to rub all over each other and make out. This scene is very sensual and erotic. A lot different from scenes Ariel and Jayce have done before. Lots of moaning, kissing, rubbing and...it's just sex!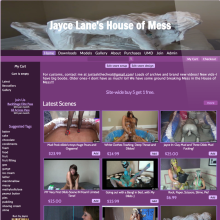 More scenes
14 min

11 min

20 min

8 min

7 min

19 min

19 min

18 min

16 min

16 min

12 min

8 min

5 min

2 files

14 min
Tell others about this scene:
* Promo refers only to
Jayce Lane's House of Mess
's download scenes. The lowest-priced item(s) in your cart from this producer will be made free once you have the required number of items in your cart.