Jamie V Jonny Messy Game Show
Produced by gungelads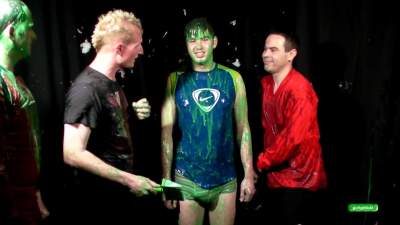 Starring these models:
| | |
| --- | --- |
| File count: | 2 |
| Total size: | 1.55 GB |
| Date added: | 9/01/17 |
| Views: | 3833 |
| Scene ID: | 24297 |

$16.99
Jonny and new lad Jamie play lots of messy games against each other in sports kit and just their pants to avoid a humiliating penalty from Ian and Paul at the end of the show! Round 1: Pie Buzzers

Ian asks the questions, buzz in and answer the question right and you get to pie your opponent. Get it wrong and your getting the pie. The lads have lots of nice custard and chocolate pies to choose from all complete with crusts!

Round 2 : The Rice Krispie Challenge

How many marshmallows can you get out of a bowl of custard and dip them in rice krispies in sixty seconds. Sounds easy, not when you have to do it with your mouth! In this round the looser will get all the custard and krispies thrown over them!

Round 3: Jamies Yes No Game

Its the classic game all new gungelads have to try and win. Dressed just in his shorts Jamie has to avoid saying "yes or no" for 90 seconds. If he fails then he gets a pie sandwich and covered in lots and lots of sticky chocolate sauce!

Round 4 : Target Practice

Each lad gets locked in the stocks and then is pelted with pies by their opponent. They get three points for a hit straight in the face, two for on the side of the face and just one if it skims the head. After each round there is plenty of gooey pie mix and crust on the floor ready for recycling down the lads pants!

Round 5 : Cover me

Each lad, takes it in turn to cover the other in as much green slime (using a pasting brush) as possible against the clock. The looser will get a bucket of slime down the front and back of his pants with lots of vigorous pasting inside his pants with the brush!

Round 6 : Hold on to your balls

Each lad must stuff as many gungy balls into his pants in 60 seconds. The looser of this game gets a major humiliating gunging!

The show last over 49 minutes. To see more download our free trailer!

Report
Includes these files:
jamie-v-jonny-part-1.mp4

1280x720

4,337 Kbps

527.58 MB

17.0 minutes
jamie-v-jonny-part-2.mp4

1280x720

4,333 Kbps

1011.55 MB

32.6 minutes