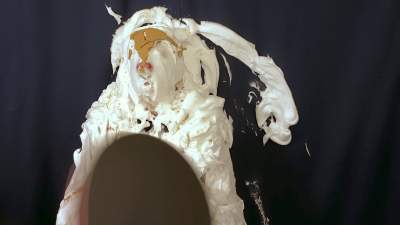 Starring the following model:
"Gracie takes a 30-pie barrage!"
| | |
| --- | --- |
| File count: | 1 |
| Total size: | 1.19 GB |
| Runtime: | 8 mins, 21 secs |
| Released: | 9/13/18 |
| Produced: | 2017 |
| Rating: | |
| Reviews: | 1 |
| Views: | 990 |
| Scene ID: | 30418 |

$7.49



Est. runtime: 8 minutes and 22 seconds. 4K resolution. Featuring Genevieve Renee and Jay laffer.

Please note: most of our videos are 4K quality- which means they use a large amount of resources when being played -older computers or operating systems may have a difficult time playing them without issues.

Also note: we recommend watching videos produced by Mad Lovers Cosplay using Quicktime. Technical issues: please contact Messmaster!

-----------------------

Inspired by an episode of The Simpsons, Gracie Magna Pedibus, the world's greatest slapstick circus clown, is waiting for a bus!

While she waits, she indulges in some reading. Her goal? To master the lessons in The Art of Happiness so she can keep her cool during encounters with her partner, Slappo the Clown! Gracie enters the scene- and even though she is a clown, she's a hot one! Clad in a white tux shirt, black bowler hat, white gloves, red suspenders, and tight black yoga pants, she tromps into the scene, her trademark, oversized, giant clown shoes slamming onto the floor as she does. Her simplified makeup has her lovely, pale skin showing with a large red nose and red smile as the only visible signature clown makeup elements.

She takes a seat and begins to read as Slappo enters, greeting her joyfully. After discovering he can't get her attention, he proceeds to pie her in the face once- when this doesn't elicit a reaction from her, he changes tactics.

With a good shot of Gracie's face in the shot and her extra-large feet in the foreground, Slappo delivers a non-stop pie barrage to Gracie- consisting of twenty-nine pies!

Throughout it all, Gracie doesn't get angry or break her peaceful state of mind- until she discovers she missed her bus!

Slappo finishes Gracie off with a large bowl of "pie filling..."then Gracie prepares to leave by donning her hat- which is also full of pie filling! Gracie slams her hands into her legs in frustration as we fade out!

Again, this is classic circus-clown-style comedy done by two students of the art of clowning!