"The stunning Hannah Claydon and Rosie-Lee are back!"
This time the glamour babes face off to see who gets messiest, as they play a series of games to win the right to mess up their opponent. Clad is sexy bikinis, the girls play off to win custard and pies to splat each other with, or to pour over their lovely long hair in a messy shampoo. Someone does need to teach Hannah to pie in the face though!
As things heat up, the ladies go topless for a challenge round--it's winner takes all, with a full gunging awaiting the loser!
| | |
| --- | --- |
| File count: | 1 |
| Total size: | 601.09 MB |
| Total runtime: | 19 mins, 27 secs |
| Date added: | 2/14/18 |
| Reviews: | 1 |
| Views: | 2744 |
| Scene ID: | 26862 |

$12.00

Report
Reviews:
"Two Busty Beautiful Women and Giggles, Topped Off With Gunge. :D"
delete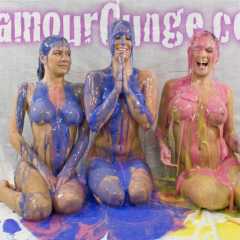 This was a great video, just from the synopsis alone how could it not be you have two beautiful women, lots of mess and games you can't go wrong. If you like women giggling whilst getting messy then this is for you, all throughout both Rosie & Hannah are laughing at the answers they come up with during some of the games as well as just laughing at the mess its self as they choose and pour it over there opponent. The games are your simple but fun rock, paper, scissors & the alphabet game which do lead to some interesting answers and the mess used for the lucky lady who losses each round is cartons of custard and pies as well as a nice gunging for the loser of the last game whilst being topless too. You can't help but love these two lovely women who look sexy in just there bikinis and even better as lashings of custard are used upon them.

The quality of the video and sound quality are up to a great standard as always with any of the girlsgetgunged releases, so can't really complain about anything about this side of the video. All in all a great video of lovely women getting each other messy while playing games & hope to see more of both Rosie & Hannah in more future updates from girlsgetgunged. :D

Report
.