"How much do you risk to avoid the gunge tank."
delete Slight variation on the higher and lower game but still keeps me interested and waiting to find out which of these gorgeous women get sent to the gunge tank, and what they will be left wearing.
–gyob1989,

2/17/18
"It does what it says on the tin--stripping and gunge"
delete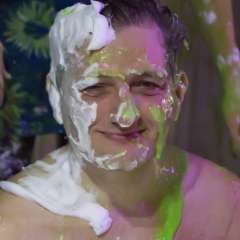 The game is a variant on "higher or lower", but I was a bit confused by the rules the first time I watched it. Basically, they each turn over a card, then those 2 new cards are compared to each other. (It's not a continuous sequence, comparing each new card to whatever came before.) By implication, that means that the winner/loser of each round was determined right from the start when the deck was shuffled, and the players can't affect the outcome. The only choice they have is whether to strip or go in the tank; if they strip, they also choose which item of clothing to take off next. Personally, I'd prefer it if they took it in turns to guess whether the next card was higher or lower. That might mean that the game takes longer; with this system, someone will lose each time they turn over new cards. Still, I'm not in any hurry. Guessing would also mean that I could play along at home. As far as the stripping goes, Lisa made it clear that the models could set their own boundaries, and there was no criticism when one of them finally opted for the gunge tank. The actual gunging was great (very thorough), and I liked the way that Lisa could vary it between a steady stream and a sudden torrent.
–flank,

9/23/17