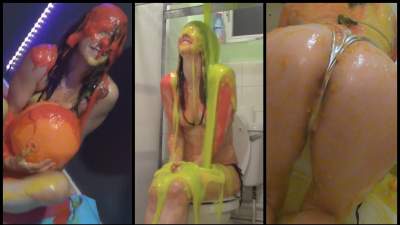 Starring the following model:
"Bikini Babe Jade gets Gunged on an Inflatable Obstacle Course!"
It's Jade's first-ever game on Totally Gunged and she's eager to get as messy and mucky as possible as she plays our new challenge: Fruit Splat! Wearing only a tiny silver bikini! Before the game, Jade dances and teases the audience in her revealing bikini, wiggling her butt and squeezing her boobs at the camera! The game then begins and Jade is tasked with collecting as many pieces of inflatable fruit as she can on our wacky inflatable obstacle course! She must then get splatted with her fruit in the Splat Zone! However, if she fails to splat all of her fruit in two minutes, she will be sat on our brand-new Gunge Tank Toilet for an embarrassing gunging! Needless to say, an already gunge soaked Jade winds up sat on our Gunge Tank Toilet and enjoys her gunging a lot more than expected! After her humiliating toilet-tanking, she plays in the gloopy green slime, spanking it over her bum and rubbing it over her gorgeous body. She ends the video by giving herself a huge wedgie and shaking her slimed booty right in your face!
| | |
| --- | --- |
| File count: | 1 |
| Total size: | 363.78 MB |
| Total runtime: | 10 mins, 53 secs |
| Date added: | 12/16/17 |
| Reviews: | 1 |
| Views: | 3555 |
| Scene ID: | 26050 |

$8.99



Reviews:
"Replace Saturday Night Takeaway with this!"
delete

From the preview pics, the scene is exactly what you'd expect what you'd get and exactly what I wanted! Some form of blow-up obstacle course with a hot-up-for-it chick who actually loves getting slimed and hot an amazing ass which I enjoyed ogling at. Once she has lost her game, she takes a generous amount of gunge to her already gunged body as forfeit. The slime is perfect and the colour is so fruity is really compliments the goal of the game! This type of game is something we all wish we could see in real life and spectate!

Having bought a couple of these videos I have to admit one of the most amazing things I came across in these videos is the voice over! Her voice is so hot and really adds to the GameShow aspect of the game! Especially since it seems like her and the contestant are conversing.

:) A really good video with a fun premise. I'd recommend it for anyone looking for silly fun

Report