 Starring these models:
"I made too many pies and boss Lisa isn't happy!"
The other day i worked at the pie factory but i made a too many pies, I have a taste and thought i could eat them in time before boss Lisa comes back, but its to late i can hear Lisa coming and sit nervously. Lisa notices the extra pies sitting around and i get a face full, Pies smashed on my bum, and everywhere. I get covered, sit on the bath, but then Lisa pushes me into the Big Custard Bath. I decide to enjoy it and have a bit of a roll around and get covered by the custard. I get out and get some more custard on my head.
This shoot contains a bonus surprise Lisa part, and wash off!
| | |
| --- | --- |
| File count: | 2 |
| Total size: | 1.02 GB |
| Total runtime: | 17 mins, 50 secs |
| Date added: | 4/19/17 |
| Year produced: | 2017 |
| Reviews: | 1 |
| Views: | 7380 |
| Scene ID: | 22306 |

$10.00




Report
Includes these files:
charlottelisacustardbathcustom1.mp4

1920x1080

8,229 Kbps

504.6 MB

8.6 minutes
charlottelisacustardbathcustom2.mp4

1920x1080

8,156 Kbps

541.31 MB

9.3 minutes
Reviews:
"Smart suits and pies galore!"
delete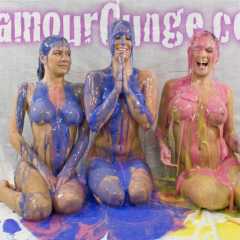 Well were shall I start, if your a fan of smart office attire getting messy then this video is an easy buy for you, both Charlotte and Lisa look stunning in their suits and get very messy.

Charlotte gets obliterated with pie after pie ruining her suit, the pies are the usual great pies from the mostwam team and to top it off theirs the a bathtub of gunge for any submersion fans out there which leaves Charlotte totally covered in pie and gunge sat waiting for Lisa to finish her off with a simple bowl of custard.

As it says in the information there is a bonus addition in which we also get to see Lisa play around in the bathtub after finishing with Charlotte doing submersion's and scooping and pouring the gunge all over her and her suit also with general playing around in the tub.

All in all an Office attire fan will love this through and through, both Charlotte and Lisa get into this scenario and really go for it Lisa doesn't hold back with the pies one bit.

Report Custom Fetish Videos