"All scenes featuring Dolly"
Dolly is our most popular model, so I've decided to put this bundle together. Get all five of her scenes for the price of about three.
| | |
| --- | --- |
| Number of scenes: | 5 |
| File count: | 5 |
| Total size: | 779.53 MB |
| Runtime: | 1 min, 46 secs |
| Released: | 3/02/18 |
| Views: | 2128 |
| Scene ID: | 27419 |

Bundle price:

$20.00

Originally $32.50
Includes These 5 Scenes
Buy individually, or get the whole bundle and save $12.50.
$6.50

Lola and Dolly wear skimpy white vest tops and start with some serious porridge head-dunking, getting as deeply submerged as they can. Next, an hilarious moment of sittin...
$6.50

In this scene, Dolly wears a tight white top while Lola wears a white leotard, and they both wear black micro-skirts. The girls are turning each other into Easter bunnie...
$6.50

Lola's been pestering me to get some of her friends in for a shoot, so last week she brought Dolly along at the earliest possible opportunity to get messy for the first t...
$6.50

1 review!
Who's going to win the main prize? And who'll be left with the booby prize? It's going to be messy finding out! 10 questions, 10 pies, two English babes, two gungings....
$6.50

Lola has prepared a romantic valentine's dinner for her and Dolly – or she would have done if she could cook more than just mashed potato and gravy! Dolly's rightfully m...

Report
Visit the site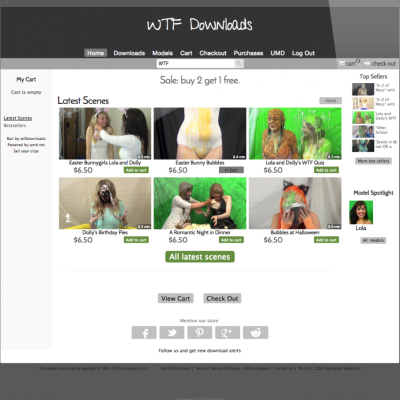 Visit the owner