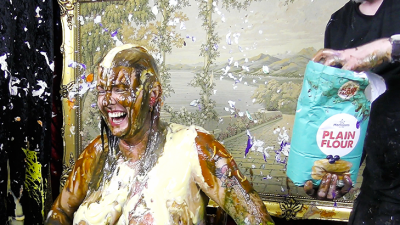 Starring the following model:
"Say it with flours. A mega mess is delivered to Ginger Dubberdee"
| | |
| --- | --- |
| File count: | 4 |
| Total size: | 2 GB |
| Total runtime: | 41 mins, 18 secs |
| Date added: | 5/11/18 |
| Year produced: | 2018 |
| Views: | 1812 |
| Scene ID: | 28424 |

$14.99



Ginger Dubberdee is in her boudoir awaiting a visit from an admirer--but instead she is lavished in an array of gooey gifts.

GD is dressed in a brand new emerald green steel boned corset, ruffle knickers, fishnets and shiny new 6 inch stiletto heels. She's all made up and has even curled her beautiful strawberry blonde hair for the occasion.

Trouso is the messenger hoping not to be shot as he faithfully administers a massive, multi-substance wamming to the hapless damsel--which includes, for the sake of a pun, a bunch of 'flours' comprising plain white and wholemeal (GD suffers nearly 5 kilos of her least favourite substance for the sake of this joke)

GD gets totally and utterly annihilated with copious amounts of eggs, flour, condensed milk, paint, baked beans, custard, rice pudding, black treacle, sugar, ketchup, mayonnaise, oil (8 litres!), grease, emulsion, spaghetti in sauce, passata, macaroni cheese, black gunge, blackcurrant jam, cream, pies. She even finds time to sit in a cake and has a shoe filled with goo.

'Will this ever end?' she laments.

Finally, the deluge desists--but, of course, by now her hair is ruined, her beautiful outfit destroyed and even the vintage tapestry hanging behind her has been totalled in the line of fire. So it's small consolation that it all turns out to have been a big mix up (oops!) and Ginger receives the bouquet of flowers she should have got instead of all that mess.

A gigantic mess which produced 55 litres of undiluted slurry. Ginger is on top form swearing and sporting around in one of the team's biggest messes to date.

Produced for thefinestmess by Richard Trouso and Ginger Dubberdee

Report
Includes these files:
tfm-gifts1.mp4

1920x1080

9,101 Kbps

680.45 MB

10.5 minutes
tfm-gifts2.mp4

1920x1080

9,163 Kbps

692.48 MB

10.6 minutes
tfm-gifts3.mp4

1920x1080

9,147 Kbps

641.29 MB

9.8 minutes
tfm-gifts4.mp4

1920x1080

8,845 Kbps

664.45 MB

10.5 minutes
Free picture gallery:
.