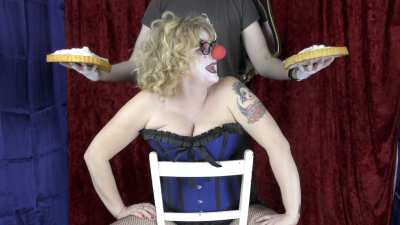 Starring the following model:
"Ginger Dubberdee gets pied and sticky as a sexy, burlesque clown girl"
| | |
| --- | --- |
| File count: | 3 |
| Total size: | 1.44 GB |
| Total runtime: | 24 mins, 24 secs |
| Date added: | 3/13/18 |
| Year produced: | 2018 |
| Views: | 2185 |
| Scene ID: | 27566 |

$14.99



A custom scene commissioned by bigc040287

ginger is made up as a burlesque clown in a luscious, steel boned corset, ruffle knickers, fishnets and red heels. Complete with sponge clown nose and her own glasses she adopts a number of pinup style poses for the camera--even holding and tasting a couple of Trouso's special cream flans.

It's not long, however, before those pies find themselves strategically slapped and smeared all over her gorgeous person (back of the head, cleavage, between the legs, bum, armpits and face!). Trouso also sees that the brand new corset is nicely coated with thick cream pie filling.

Without much further ado, GD's generous FF cup bosoms are realeased from the corsetry so that her hands can be thickly brushed with red paint and she can create a pair of improvised hand-print pasties. She then envelops each boob, in turn, in a creamy flan -which she slowly massages until the crust disintegrates. They are then drizzled with warm and delicious condensed milk and custard which is also poured over her head...

After both buttocks have been individually pied, and her back has been basted in banoffee pudding. GD is smothered in lashings of warm black treacle before sitting in a cake.

She then shampoos the super sticky treacle into her hair, working it well into her scalp with her fingers before receiving a gooey pie sandwich to the head.

There's yet more black treacle over the legs and head until she's well and truly covered all over and treated to more handfuls of the thick banoffee pudding. Now entirely gooey and blackened, GD is subjected to having a 'new corset' liberally painted onto her body.

The sponge clown's nose is retrieved and replaced so that GD can have her butt smacked with a crusty pie and say farewell, blowing us a kiss...

...but it's not over yet as she takes a seat so husband Trouso can splat her square in the face, hard with another thrown crusty cream pie and empty two cans of spray cream onto her head.

But then that's showbiz, folks!

An essentially simple sexy slapstick pastiche combined with what is becoming the Trouso's trademark 'heavy' mess. Clothed to topless--100% coverage. Trouso appears on camera several times as the pie thrower but the focus at all times is Ginger.

Produced by Trouso-Art, clown makeup by Peachy <3.