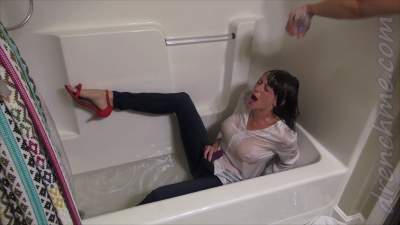 Starring the following model:
"Jayce tries to cum using a vibe while Ariel pours icy cold water on her!"
Jayce is ready to relax! She has her warm bath water in the tub, her vibrator is charged up and she's wearing her sexy light blue skinny jeans, pink strappy heels and a white satin blouse, no bra! She steps into the tub and lies back, begins to enjoy using her vibrator over her jeans, it feels really good and she begins to get caught up in the good feelings the vibrator is giving her pussy, her eyes are closed when Ariel sneaks in with a bottle of ice water fresh from the refrigerator and starts to pour it on Jayce's tits! Jayce screams loudly at the shock of the cold! She keeps masturbating, determined to cum, while Ariel pours more bottles of cold water on her and pours a big bowl of water with ice cubes in it all over her! Her screams are so loud but she continues to frantically rub the vibrator on her pussy, hands down inside her jeans now, determined not to let the cold water steal her orgasm! Her big tits are heaving through her transparent satin blouse as she gets closer to orgasm! Jayce is so hot and sexy when she cums!
| | |
| --- | --- |
| File count: | 1 |
| Total size: | 445.03 MB |
| Total runtime: | 8 mins, 46 secs |
| Date added: | 1/09/18 |
| Year produced: | 2017 |
| Views: | 3464 |
| Scene ID: | 26456 |

$9.99




Report

Phased Out Again