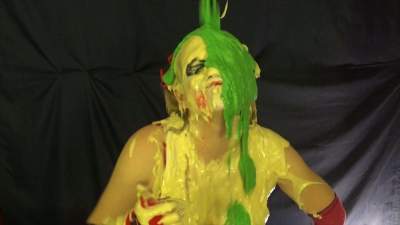 Starring the following model:
"Harley Quinn takes gallons of vanilla pudding and green slime!"
| | |
| --- | --- |
| File count: | 1 |
| Total size: | 179.22 MB |
| Runtime: | 3 mins, 3 secs |
| Released: | 9/13/18 |
| Produced: | 2014 |
| Views: | 1058 |
| Scene ID: | 30415 |

$2.99 25% off!

$2.24



Est. runtime: 3 minutes and 4 seconds. 1080p resolution. Featuring Genevieve Renee.

Recommend watching all videos produced by Mad Lovers Cosplay using Quicktime--technical issues? Please contact Messmaster!

-----------------------

Harley Quinn, her gorgeous blonde hair pulled into pigtails, clad in her tight, white tanktop- which features a picture of The Joker -and sporting her trademark makeup, talks all about how she "messed up" the Be My Puddin' payoff video and caused a lot of grief for her beloved Mister J.

Determined to make it up to him- and her viewers and fans -Harley proceeds to engage in a "redo"- looking upward to take a full facial of vanilla pudding: to be exact, she expects to get 4 gallons worth!

However, in the middle of the pour...it stops short. Confused, Harley demands that the crew of the video make with pouring more on her!

They oblige...but not with pudding- instead they treat her to five gallons of textured, thick, dark-green slime! The weight of the pudding and slime pull the collar of her shirt down, displaying more of her "assets."

At the end of the video, Harley gets another facial full of light-green slime!

As Harley, Genevieve Renee's comedic and acting skills are on full display and you're going to love her adorable take on the beloved comic-book character in this comedy spoof!
Free picture gallery:

Report