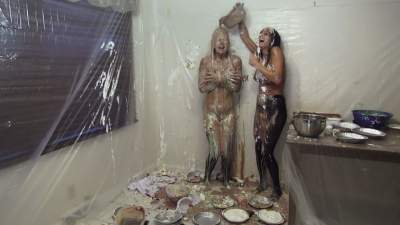 Starring these models:
"things get extremely embarrassing at the Halloween party!"
The ladies are at a Halloween party and Jayce starts shaming Ariel for looking slutty. She grabs Ariel's cocktail and pours it on her dress! So Ariel starts pieing and messing up Jayce! Jayce retaliates and a pie fight ensues..Ariel fills Jayce's pantyhose with melted ice cream! They rip off each others costumes and Jayce takes control, while an almost nude Ariel begs for something to cover up with, Jayce gives her something to do just that with gallons of melted ice cream, 5 dozen eggs and lots of pies! Jayce ends up humiliating Ariel in front of everyone at the party!
| | |
| --- | --- |
| File count: | 1 |
| Total size: | 162.31 MB |
| Total runtime: | 11 mins |
| Date added: | 12/22/16 |
| Year produced: | 2015 |
| Views: | 2656 |
| Scene ID: | 20802 |

$7.99




Report

Phased Out Again