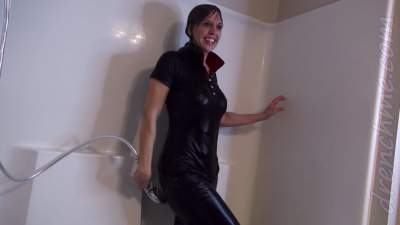 Starring the following model:
"Ariel gets wet in layered polo shirts w/ popped collars + Levi's jeans!"
Ariel gets drenched in polo shirts and Levi's jeans! She begins her bath in a pretty teal polo shirt with a white one over it with popped collars. She's wearing dark blue boot cut Levi's jeans and white lace flats. She turns on the water and begins getting her feet wet, the water feels amazing, nice and warm. She uses the sprayer to begin soaking her jeans, starting at the bottom and working her way up to her polo shirts! The layered shirts are so sexy when soaked! The teal looks very appealing under the white cotton one! After a while she takes off her shirts, revealing her Victoria's Secret Pink push up bra. She takes that off also, and puts on a red polo shirt and then puts a navy blue one over it and adjusts her collars so that they're popped. She begins soaking these polo shirts as well, the navy blue one looks sexy and shiny when drenched! She takes off her jeans and reveals sexy VS Pink silky panties! They're shiny when wet also! Her round ass looks so sexy in just panties and polo shirts!
| | |
| --- | --- |
| File count: | 1 |
| Total size: | 801.32 MB |
| Total runtime: | 13 mins, 46 secs |
| Date added: | 11/12/17 |
| Year produced: | 2017 |
| Reviews: | 1 |
| Views: | 1849 |
| Scene ID: | 25313 |

$6.00



Reviews:
"I love the polo double collar popping!"
delete Great video! I bought it to see the popped polo collars as I have a huge collar up fetish!

Please make more double polo popped/upturned collar videos where the collars are fully, vertically up but if I may make a suggestion? also where the girl has her hair tied up tight so the hair doesn't hide any of the collar! Would be great to see as much of the collar up as possible ;)

Report

Report MessySupplies.com